Credibility and Demeanor in the Courtroom: Witnesses & Nonverbal Communication with Vincent Denault
LEARNING OPTIONS:

Live webinar with chat*
includes 30 day replay
9:00 am – 10:30 am (Pacific)
10:00 am – 11:30 am (Mountain)
11:00 am – 12:30 pm (Central)
12:00 pm – 1:30 pm (Eastern)
1:00 pm – 2:30 pm (Atlantic)
*This program features real-time audio of the presenter with synchronized presentation slides, and a chat feature that allows for live Q & A. SK attendees please verify whether you align with Central (MB) or Mountain (AB) time based on season and location.
Registration Fee
Save $25
Register on or before October 6, 2017
$135.00 + HST
Register after October 6, 2017
$160.00 + HST
CPD CREDIT HOURS:



ON: This program is eligible for up to 1.5 Substantive hours.

BC: This program has been approved for 1.5 CPD hours.

SK: This program has been approved for 1.5 CPD hours.

NB: This program has been approved for 1.5 CPD hours.

Lawyers in all other mandatory CPD jurisdictions may count their actual attendance at the program towards their CPD requirement/plan.

Seminar Partners is an Accredited Provider of Professionalism content by the Law Society of Upper Canada, and a pre-approved CPD Provider of the Law Society of British Columbia.
Technical Information:
Live webinars allow you to hear faculty and see their presentation slides, and ask questions by chat. There is no video feed of the presenter(s). You will need a current web browser (Chrome 11, Safari 5 and up, Internet Explorer 8 and up), a wired (better than wireless) connection to the Internet of at least 2 Mbps, and Adobe Flash Player 12 or higher. You can test your internet speed/bandwidth here. You can find out whether you have Adobe Flash Player installed here. You can download the player directly here. If you miss the live program, you can access the archive, at your convenience, for 30 days.

Satisfaction Guarantee:At Seminar Partners, we guarantee the quality of our programs. In fact, 98% of our participants say they would recommend the program they have taken to their colleagues. If, after having attended a program in its entirety, you are not satisfied that the program has enhanced your understanding of the subject, and you notify us of this in writing before leaving the venue, we will give you a credit toward another program of comparable price.
Who Should Attend
This program is designed for lawyers who want to better understand some of the non verbal factors triers of fact take into consideration when making credibility assessments.
About the Program
According to the Supreme Court of Canada, credibility is a prevalent issue in most trials. While a witnesses' credibility can be influenced by a variety of factors, including their testimony's consistency with other evidence, witnesses' nonverbal communication can also play a crucial role. Facial expressions and gestures, as well as other nonverbal characteristics, can influence the weight a trier of fact gives to testimony, and ultimately, can determine the outcome of the trial. Understanding how nonverbal communication can influence a trier of fact's credibility assessment is therefore a valuable asset to trial lawyers. Using Canadian case law examples, as well as up to date research on credibility assessment and deception detection, this seminar aims to help lawyers understand the dynamic of nonverbal communication in the courtroom, and how a witnesses' nonverbal communication can lead triers of fact to conclude that a witness is truthful or dishonest. Understanding how courts interpret demeanor to make credibility assessments will better equip lawyers in a variety of litigation contexts.
Meet Your Presenter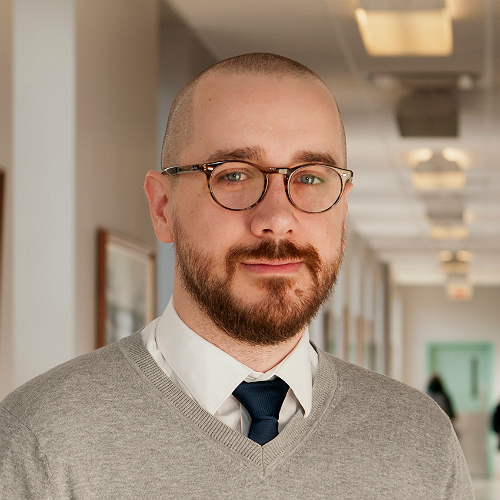 Vincent Denault is a lawyer and certified fraud examiner, and member of the Bar of Quebec and the Association of Certified Fraud Examiners. He holds a Bachelor's degree of Laws from the Université du Québec à Montréal (UQÀM) and a Master's degree of Laws from the same university where he studied the impact of witnesses' nonverbal behaviour during trials. Mr. Denault is also a research assistant at the Communication and Health Research Center of the Université du Québec à Montréal (UQÀM), PhD student and lecturer at the Department of Communication of the Université de Montréal, co-director of the Center for for Studies in Nonverbal Communication Sciences of the Montreal Mental Health University Institute Research Center and author of the book Nonverbal Communication and Witnesses' Credibility published by Yvon Blais Editions. Funded by the Quebec Research Funds – Society and Culture (FRQSC), Vincent's research focuses primarily on issues related to credibility assessment, deception detection and nonverbal communication during trials. He is the inaugural recipient of the Emerging Scholar Award (2016) of the Nonverbal Division of the National Communication Association.
Program Schedule (Eastern)
12:00 pm - 1:30 pm
Introduction: when knowing the law is not enough
Nonverbal communication, the silent authority
False beliefs and pseudoscience
Science for practitioners
Demeanor in social interactions
Credibility according to the Supreme Court of Canada
Core principles of credibility assessment
Credibility and cross-examination
Demeanor of witnesses
How triers of facts use nonverbal communication
Heuristics and biases
Specific demeanor vs. general observation
Witnesses testifying or not
Conclusion: science to help the truth prevail
Program Evaluation