HAC 22nd Annual CONVENTION AND TRADE SHOW
Helicopter Association of Canada
HAC 22nd Annual CONVENTION AND TRADE SHOW
November 9 –11, 2017
Westin Ottawa
Ottawa, Ontario Canada
Exhibitor Space - On-Line Application
We Wine & Dine Our Exhibitors the Canadian Way!
Your HAC Booth Space Includes:
2 Exhibitor Partial Conference Registrations to a maximum of 6
Awards Dinner Tickets Available for Purchase $75.00 each
2 Breakfasts in the trade show (Fri. & Sat.)
2 Trade Show Lunches (Fri. & Sat.)
3 Networking Breaks (minimum) (Fri. & Sat.)
2 Cocktail Receptions in the trade show hall (Fri. & Sat.)
Access to HAC Skidz Bar
Access to Conference Speaker Series
Almost all of our conference social events are held on the trade show floor for maximum exposure and networking opportunities.
Booth Space is sold out each year and we anticipate the HAC 22nd Annual Conference to be the same with approximately 700 delegates attending the largest gathering of the commercial helicopter industry, its suppliers and manufacturers in Canada.
Interested in Sponsoring one of the HAC Annual Conference Events?
Please contact: Barb Priestley
Email: barb.priestley@h-a-c.ca
(613) 231-1110 ext 237
Join us in Ottawa!
For information or assistance contact
barb.priestley@h-a-c.ca or call 613.231.1110 ext 237
NOTE: Online registration requires credit card payment by VISA or Mastercard or Amercian Express only.
CANCELLATION POLICY - Exhibit space may be cancelled by notifying HAC Administrative Services in writing only. Cancellations up to and including September 7, 2017 will receive 50% reimbursement. Cancellations received after September 7, 2017 will not be reimbursed.
Click here to see the Exhibitor Prospectus.
Click here to see the floor plan.
Pricing - Canadian Funds
Price based on square foot
| | |
| --- | --- |
| HAC Associate | C$18.50 per sq. ft. |
| Non-Associate Rate | C$21.25 per sq. ft. |
SEE YOU IN Ottawa!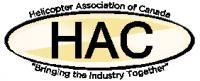 2210 Prince of Wales Drive, Unit 502
Nepean, Ontario K2E 6Z9