How to Use Google for Investigative Research with Mark Rosch & Carole Levitt
LEARNING OPTIONS:

Live webinar with chat*
includes 30 day replay
9:00 am – 10:30 am (Pacific)
10:00 am – 11:30 am (Mountain)
11:00 am – 12:30 pm (Central)
12:00 pm – 1:30 pm (Eastern)
1:00 pm – 2:30 pm (Atlantic)
*This program features real-time audio of the presenter with synchronized presentation slides, and a chat feature that allows for live Q & A. SK attendees please verify whether you align with Central (MB) or Mountain (AB) time based on season and location.
Registration Fee
Save $25
Register on or before April 6, 2017
$135.00 + HST
Register after April 6, 2017
$160.00 + HST
CPD CREDIT HOURS:




ON: This program contain 1.5 Professionalism hours.

BC: CPD application is pending.

SK: This program has been approved for 1.5 CPD hours.

NB: This program has been approved for 1.5 CPD hours.

Lawyers in all other mandatory CPD jurisdictions may count their actual attendance at the program towards their CPD requirement.

Seminar Partners is an Accredited Provider of Professionalism content by the Law Society of Upper Canada, and a pre-approved CPD Provider of the Law Society of British Columbia.
Technical Information:
Live webinars allow you to hear faculty and see their presentation slides, and ask questions by chat. There is no video feed of the presenter(s). You will need a current web browser (Chrome 11, Safari 5 and up, Internet Explorer 8 and up), a wired (better than wireless) connection to the Internet of at least 2 Mbps, and Adobe Flash Player 12 or higher. You can test your internet speed/bandwidth here. You can find out whether you have Adobe Flash Player installed here. You can download the player directly here. If you miss the live program, you can access the archive, at your convenience, for 30 days.

Satisfaction Guarantee:At Seminar Partners, we guarantee the quality of our programs. In fact, 98% of our participants say they would recommend the program they have taken to their colleagues. If, after having attended a program in its entirety, you are not satisfied that the program has enhanced your understanding of the subject, and you notify us of this in writing before leaving the venue, we will give you a credit toward another program of comparable price.
Who Should Attend
All lawyers who want to learn how to use Google to better prepare for discovery and trial, run background checks, and conduct other investigations will benefit from attending this course. Your successful searching starts here!
About the Program
The internet can be a powerful research tool - with a little digging in the right places, anyone can find a gold mine of information. But if you've never taken a formal class to learn how to search effectively, then you're probably leaving many of the most useful "cyberstones" unturned. Listen and learn from the experts as Mark Rosch and Carole Levitt show you, slide by slide, how to be your own cybersleuth and access valuable information that will give you a decisive advantage in your next case. You'll learn how to use hidden Google search features and shortcuts to help you:
Get background and investigative information about people and companies
Find addresses, phone, fax, and cell numbers for service of process, etc.
Uncover news from current and archival sources
Keep on top of your research using free alerts
Save time and money with more targeted results
Don't miss this convenient, 90 minute course that will help you find more of the information you need to effectively handle your clients' matters, and meet your ethical duties to be technically competent.
Meet Your Presenter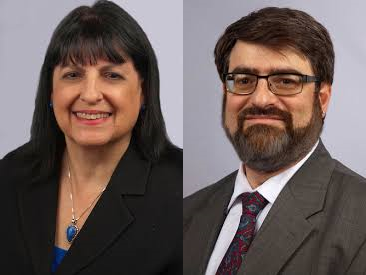 Carole A. Levitt and Mark E. Rosch are principals of Internet for Lawyers and internationally recognized full-time CLE speakers. Their areas of expertise are: Internet investigative, legal, and social media research; social media ethics; Google search; and Google cloud Apps. Together, they have authored hundreds of Internet research articles and six ABA Law Practice Division books. They have also co-authored thirteen editions of IFL Press's The Cybersleuth's Guide to the Internet. In 2013, they were recipients of the "Fastcase Fifty" award, recognizing "50 of the smartest, most courageous innovators, techies, visionaries, and leaders in the law" and in 2014, they both became Fellows in the prestigious College of Law Practice Management.
Program Schedule (Eastern)
12:00 pm - 1:30 pm
Do lawyers have a duty to Google?
Using Google as an Investigative Tool
Creating more effective searches to locate crucial information you might otherwise miss
Hidden search features, secrets, and shortcuts
Are you "feeling lucky?"
Key into Google's "advanced search" menu to create more sophisticated and targeted searches
Filter search results to find precise information
Uncover news from current and archival sources
Keep on top of your research using free alerts
Track down deleted or altered web pages to use as evidence
Program Evaluation
Praise from past attendees
"Completely new information to me and most informative."
"Very practical, lots of ways to use Google that I had been totally unaware of before."
"Better than I expected. They packed a lot in. Loved the slides and the examples. It held my interest."
"Important information [given] requirement lawyers have and use certain level of internet computer technical proficiency."
"Will put Google news alerts to use immediately."
"Very interesting seminar; the speakers were extremely good."
"Very helpful with lots of great tips."
"One of the best seminars providing practical content I've attended."